Governing Board
Pima County Community College District is governed by a five-member board representing County electoral districts. Members are elected to serve a six-year term.
The Board determines the mission and sets goals for the College. The Board is also responsible for selecting the administrative head of the Pima County Community College District.
PCC Service Area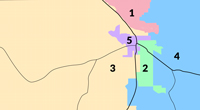 PCC Board members are elected to represent our community based on Pima County Supervisor Districts. View a larger map.
Board Meetings
Board Resolutions
Board Self-Assessment
Board Goals 
---
Pima Community College is an equal opportunity, affirmative action employer and educational institution committed to excellence through diversity. Upon request, reasonable accommodations will be made for individuals with disabilities. Every effort will be made to provide reasonable accommodations in a timely manner. To request accommodation, please call (520) 206-4539 or fax (520) 206-4567.