Louis Carlos Bernal Gallery
The Louis Carlos Bernal Gallery, located in the Center for the Arts complex, exhibits regional, national and international contemporary artists, as well as sponsoring a juried student exhibition each spring. 
The gallery is named for Tucson's noted photographer and teacher, Louis Carlos Bernal. He was the founding photography instructor at Pima Community College. In 1984 he was nationally recognized and chosen to photograph the Olympics in Los Angeles, California. 
The gallery and its programs are free and open to the public. Gallery hours: Mon./Thu. 10 a.m.-5 p.m., Fri. 10 a.m.-3 p.m. 
David Andres, director of PCC Louis Carlos Bernal Gallery received a prestigious 2017 Governor's Arts Award. Andres was honored in Arts in Education-Individual for his significant support or participation in activities that foster excellence in, appreciation of, or access to arts education in Arizona.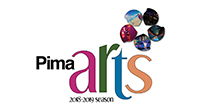 Download a Pima Arts 2019-20 season calendar.
Join our e-mail list to receive Center for the Arts updates, discounts and special events.