Music
The PCC Music program is housed in the Center for the Arts at West Campus. The program provides extensive experience and training in all aspects of classical and popular music including classes in theory, history, piano, guitar, studio instruction, music industry and electronic music consistent with the first two years of a bachelor's degree in music. Students can earn an Associate of Fine Arts degree with a concentration in music that can transfer to a bachelor's degree in music performance, history, theory and education.
Facilities include a state-of-the-art MIDI laboratory and electronic piano laboratory, practice rooms, large ensemble rehearsal rooms, the 75-plus-seat Recital Hall and the 425-seat Proscenium Theatre.
Major performing groups include Wind Ensemble, Jazz Ensemble, Chorale & College Singers and Orchestra. The performing groups along with faculty and guest artists hold concerts throughout the year.
Music faculty Dr. Mark Nelson was profiled in the spring 2015  issue of the International Tuba Euphonium Association Journal. Read Mark's interview by Benjamin Pierce.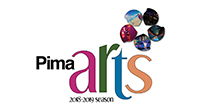 Download a Pima Arts 2018-19 season calendar.
Box office: (520) 206-6986
Join our e-mail list to receive Center for the Arts updates, discounts and special events.