Computer-Aided Design
Pima's degree and certificate options will prepare you for a career in a variety of manufacturing and construction settings, depending on the pathway you choose. 
By completing your CAD training at Pima you'll have mastered basic to advanced computer-aided drafting skills. Depending on your certificate or degree concentration, you could end up employed by engineering firms, including companies specializing in architectural, civil, construction, electrical, mechanical, plumbing or structural engineering. You might even get work designing parts used in the automotive, machine tool, aviation or aerospace industries. 
In metro Tucson, many drafters with specialized training will be in high demand, especially electrical/electronics drafters, and architectural and civil drafters.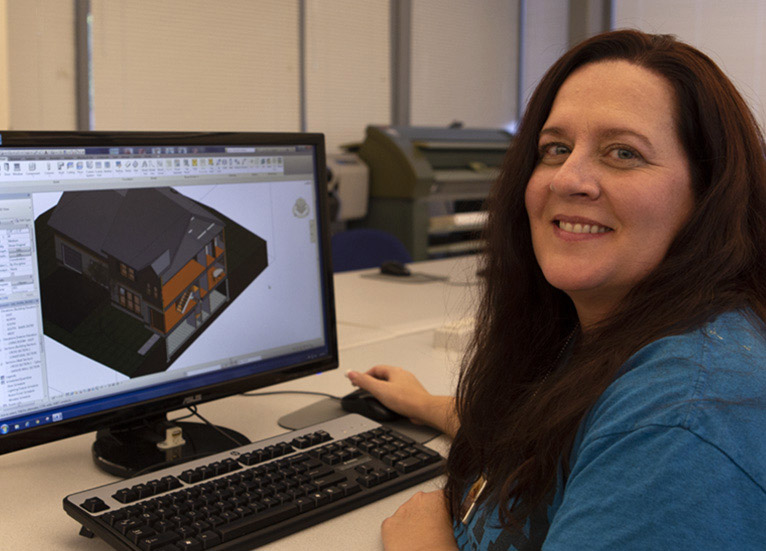 "Whether it's in manufacturing, constructing buildings, or creating parts for engines or tiny microchips that fit in a recorder, a telephone or other electronics – these are all tools to investigate how something might be built or how it might come together before it does come together."
Rachelle Hornby
Advanced Computer Aided Drafting/Design
List of Degrees
AAS - Associate of Applied Science
List of Certificates
Recently Inactivated Programs
Mechanical Designer/CNC Programmer - Certificate
---
www.pima.edu/cad
Location
Downtown Campus
Contact Information
Division of Applied Technology
Dean: 520.206.7134
Lead Faculty: 520.206.7230
Program Advisor: 520.206.7265
Information Sessions