Pima Graduate Earns Bachelor's and Master's Degrees, Returns to Pima to Help Others
From student volunteer to Pima ARC coordinator: Susan Ho shares her journey in social services
By Anne Denogean, External Relations
Susan Ho started her college education at the University of Arizona in 2015 filled with promise and funded by a $32,000 scholarship that testified to her previous academic achievements. However, her time there would be fraught with challenges and uncertainty, leading her to lose her scholarship and drop out after a few semesters.
Pima Community College helped Susan to regain her footing, with staff and faculty providing the support, mentoring and astute advising she needed. And this year – after having earned an associate degree in social services from Pima and bachelor's and master's degrees in social work from Arizona State University (ASU) – she became a full-time employee with Pima. As the first-ever program coordinator of Pima's ARC Resource Center and Food Pantry, she helps students with food-insecurity and other struggles. Pima students make 1,200 visits to the center each semester for food, supplies and referrals to local resources.
"Pima is where I have attained the most knowledge, the most education and the most experience, and that has directly impacted and influenced where I am today," Susan said.
A native of Tucson and 2015 graduate of Flowing Wells High School, Susan found herself in her first semester at UA dealing with anxiety and depression. "I lacked motivation to get up in the mornings and go to classes. I lacked a sense of purpose and passion," Susan said.
She dropped in and out of school and eventually lost her funding. Amidst these struggles, Susan sought professional help. Her experiences with a therapist ignited a newfound purpose and piqued her desire to help others. She pursued a peer support specialist certificate through the National Alliance on Mental Illness of Southern Arizona, which marked her entry into the realm of social services.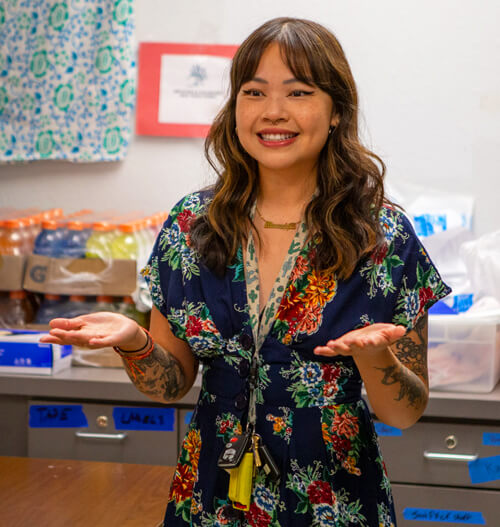 Susan's return to education in spring 2018 brought her to Pima primarily due to financial considerations as she was now funding her own education. And Pima turned out to be exactly where she needed to be. She discussed her interests in psychology and helping others with an academic advisor, who steered her into the Social Services program, citing the versatility of the degree.
During her first semester at Pima, Susan was still working through her anxiety, with many days spent unable to attend class. She found her Social Services faculty Rachael Lord and (former instructor) Kent Burbank to be understanding and flexible, as well as great teachers and mentors. Susan worked through Access and Disability Resources for accommodations. Providing letters from her therapist, she was granted excused absences and additional time to complete assignments. 
As faculty advisor, Lord encouraged Susan to join the Social Services Student Organization (SSSO), which would play a big role in launching the ARC. 
Lord proposed a food pantry as a project to the SSSO club in 2018. The pantry would provide food and personal hygiene supplies to food-insecure students and serve as a Social Services learning lab for Pima students and ASU School of Social Work interns. Lord and the SSSO worked closely with the Community Food Bank of Southern Arizona and Pima to establish a contracted relationship providing the ARC with needed food resources and some financial support. At the same time, the Desert Vista campus ARC location was being initiated through Student Senate and TRIO Program Management, Don Harp and Gustavo Miranda. Despite budgetary and other challenges unused space at West Campus was granted for the project and in April 2019 the ARC Resource Center and Food Pantry officially opened (the second ARC location at Desert Vista Campus also opened at the same time).
"It felt almost surreal," Susan said. "It was a bare-bones endeavor at the time, but I didn't know how we'd be able to sustain it."
Pima student volunteers, club advisor Lord and SSSO members, Social Services interns, interns from the ASU School of Social Work, and many other staff and faculty members dedicated many hours to establishing and maintaining the ARC as an integral student-centered service at West and Desert Vista campuses.
"Pima is where I have attained the most knowledge, the most education and the most experience, and that has directly impacted and influenced where I am today." 
Susan's continued on her journey to complete a bachelors degree at the ASU School of Social Work (Tucson Campus) despite some systemic pitfalls. Overcoming several barriers - financial, work-stusy requirements and more- she balanced a full-time degree program, an internship, and two part-time jobs (including her position at the ARC). Her achievements culminated in the conferral of both her BSW (2022) and MSW (2023) degrees.
She credited her ability to manage her multiple commitments to "the enduring support and flexibility I found while working at the ARC." In addition, Pima's Social Services Department, ASU School of Social Work, and her community agency internship sites provided empathy and encouragement to continue her educational and career goals.
Susan was a volunteer, peer mentor, and support specialist/administrative assistant at the ARC before being hired as the program coordinator in January. Since then, she has been working to expand the scope of ARC beyond providing food. Through ARC, students can learn about health and wellness opportunities and other local resources available to them.
Susan identified that building relationships, connecting with other students, faculty, and staff, and curating a supportive community empowered her to achieve success in her field.
Reflecting on her journey, she said, "I owe a great debt of gratitude to Rachael Lord, Kent Burbank, (former Academic Director) Kelly Rose, and the entirety of Pima. This institution has nurtured my knowledge, education, and experience in profound ways." 
Put your idealism to work! 
Inspired by Susan's story and ready to launch your academic career? Explore Pima's Social Services and Behavioral Health options to find the right fit for you.
If you are a currently enrolled student and need food or personal hygience supplies, contact the ARC at pcc-arcpantry@pima.edu