Truck Driving
Looking to start a career in the truck driving industry? Through Pima's Center for Transportation Training, you can earn your Class A Commercial Driver's License (CDL) in as little as 6.5 weeks, and receive comprehensive hands-on, on-the-road-training on the very trucks and trailers you'll be driving. Program is compliant with Entry Level Driver Training federal rule.
Our professional truck driver training is very affordable, and we offer free career placement assistance. In fact, you may receive a job offer before you finish your training.
Students who have their Class A CDL can prepare for future jobs in the trucking industry by pursuing Pima's Autonomous Vehicle Driver and Operations Specialist Certificate. This training program will provide you with the skills you need to work with self-driving trucks
Pima's Class B CDL training program teaches students how to safely operate a vehicle that can carry 16 passengers or more.
The Center for Transportation Training also offers CDL examination services for Classes A, B, and C.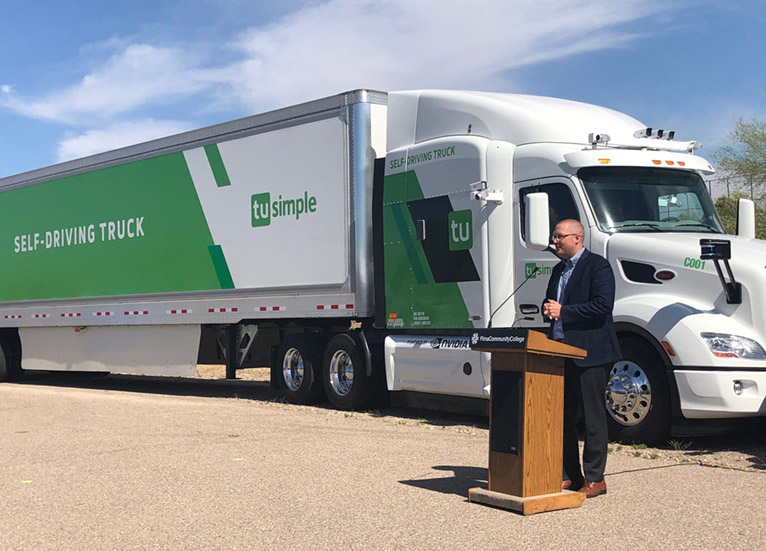 Partnering with industry
Pima, in partnership with TuSimple, is pioneering training in the operation of self-driving trucks with the first of its kind Autonomous Vehicle Driver and Operations Specialist certificate program. TuSimple is using technology to solve a nationwide shortage of over-the-road drivers.
List of Certificates
---
www.pima.edu/truckdriver
Contact Information
Division of Workforce and Continuing Education
Dean: 520.206.4587
Transportation Training Office: 520.206.2744
truck-drivertraining@pima.edu
Earn a certificate in as little as 6.5 weeks