Machine Tool Technology
Some people refer to Machine Tool Technology as "the king of trades" because everything starts with manufacturing. When you enter a room, take a look around - manufacturing is responsible in some way for everything in that room, whether it's a spoon, a plastic cup or a soda can. 
Students in Pima's Machine Tool Technology program study that large segment of the manufacturing arena that actually makes the parts that go into products sold throughout the world. Pima's program teaches the basics of manual and computer numerical control (CNC) machining, inspection and metallurgy.
The program incorporates theory and hands-on training of techniques used in metal manufacturing, with courses in math, metallurgy, drafting, mechanical inspection, manufacturing processes and computer-aided machining. Pima students are given manufacturing projects to complete, and learn on the same machines used in machine shops around the country.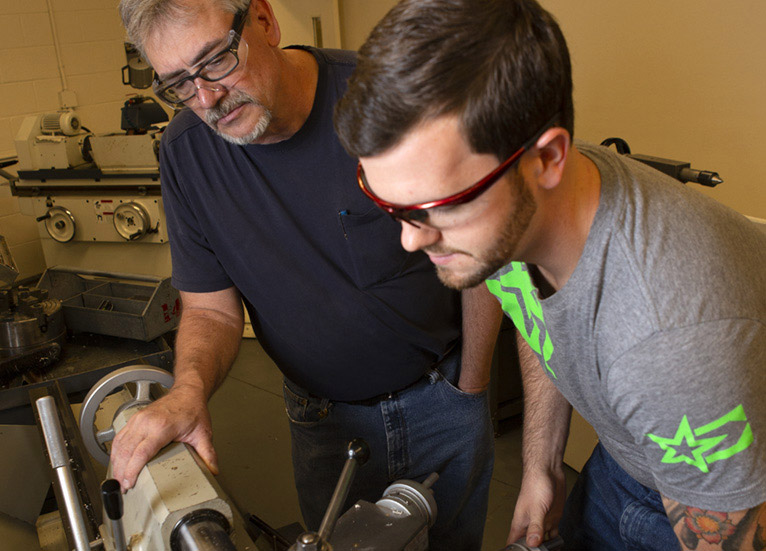 "The instructors at Pima are very knowledgeable and can focus on you because of smaller class sizes, and I feel like I'm getting an excellent education. They teach you real world practices in addition to what you learn in the books."
Brian Smedley
Pima Graduate
List of Degrees
AAS - Associate of Applied Science
List of Certificates
---
www.pima.edu/machinetool
Location
Downtown Campus
Contact Information
Division of Applied Technology
Dean: 520.206.7134
Lead Faculty: 520.206.7194
Program Advisor: 520.206.7240
Information Sessions