SEPARADOS POR FRONTERA (opens Feb. 4, 2019)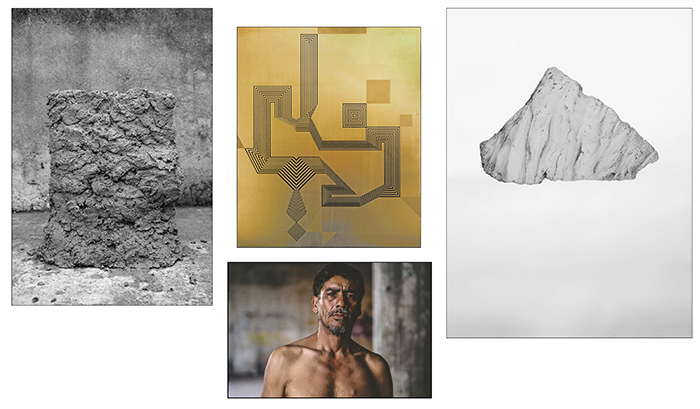 SEPARADOS POR FRONTERA - SEPARATED BY BORDERS
Feb. 4 - March 8, 2019
Reception/Gallery Talk: Feb. 7, 5-7 p.m.
Louis Carlos Bernal Gallery
The gallery and its programs are free and open to the public. Hours: Mon.-Thu. 10 a.m.-5 p.m., Fri. 10 a.m.-3 p.m., and before select performing arts performances. Closed rodeo break 2/21-22.
The Louis Carlos Bernal Gallery presents SEPARADOS POR FRONTERA - SEPARATED BY BORDERS,featuring work by Francisco Larios Osuna, Miriam Salado, Carlos Iván HernándezandNahatan Navarro. The artists present a provocative body of work from the Mexican state of Sonora that shares Arizona's southern border. Their art features a variety of mediums—graphite drawing, photography and painting. 
Bernal Gallery director David Andres explains, "The mission of the Bernal Gallery is to embrace the importance of exhibiting original works by emerging and established artists from diverse cultures, including international artists with strong links to Southern Arizona. The exhibits offer opportunities for critical dialog that build inclusivity. Separated by Borders looks beyond the southern border to artists with ties to the state of Sonora, Mexico. The four exhibiting artists bring a new perspective to who and what is being cultivated and produced in Hermosillo, the capital of Sonora."
Larios Osuna states that his work is interdisciplinary and explores the relationship between people and divinity, and pain and suffering. He has exhibited in two prestigious Art Basel International Art Fairs in Switzerland and Miami. Larios Osuna has won first prizes in biennials in Mexico City and Monterrey in Mexico; and Cuenca, Ecuador. He is in the collections of contemporary art museums across the United States and Latin America. His current work is enamel and acrylic ink-based print on gold leaf and MDF wood.
Salado is exhibiting detailed drawings of cattle bones found in the Sonoran Desert. The hyperrealism in her drawings reveals detail of every crack and crevice, giving them an other-worldliness. The shapes float in a void that resembles planets in outer space. Salado was a scholar of the state for Culture and the Arts of Sonora and won the acquisition prize in the State of Sonora Photographic Contest and the Eighth Visual Arts Biennial of Sonora. She is currently in the contemporary art of SOMA, a non-profit organization conceived to nurture discussion and exchange in the field of contemporary art and education in Mexico City. She studied plastic arts at the University of Sonora and at the National School of Plastic Arts at the Escuela Nacional de Artes Plásticas (ENAP) of the Universidad Nacional Autónoma de México (UNAM), Mexico City.
Hernández was born in Mexico City and moved to Hermosillo to attend the Sonoran plastic arts at the University of Sonora. He write that his "artwork is based on his interest in apprehending and interpreting the effects of nature on space and the object as representation." Hernández is exhibiting works of documentary photography of his sculptures that he has constructed in the outer limits of rural communities, roads and arid landscapes in Northern Mexico. He uses organic materials of adobe mud and plant materials to build abstract forms that resemble wreathed adobe walls. He has exhibited in Chile, Bolivia, England, Spain and the United States. Hernández completed an artists-in-residence program at the Trans Visions Alcobendas Art Center in Madrid, Spain.
Navarro is a photographer working in digital fine art pigment prints. Light, shadow, abandonment and silence penetrate the places where immigrants reside. The notion of caves and lairs help the viewers understand the places where abandoned people reside. The convergence between the abandoned warehouses and the people (individuals or immigrants) who inhabit them lead Navarro to question what series of events were unleashed that make these people feel compelled to remain in this place? What did they do before they got there? How is it that people somehow begin to blend in with the place that they chose to reside? Navarro was recently chosen for the August/September 2018 Curatosuro, the prestigious photographic magazine for Mexico, with an article about his artwork exhibited at the Bernal Gallery.
Pima Community College Bernal Gallery is located at the Center for the Arts on West Campus, 2202 West Anklam Road in Tucson (just west of downtown). For more information about this exhibit please contact the gallery at 520-206-6942 or centerforthearts@pima.edu.
Additional images by the artists are on display at the Extension Gallery, Tucson International Airport through April 4, 2019.
Above images (clockwise): Carlos Iván Hernández, Franciso Larios Osuna, Miriam Salado, Nahatan Navarro