Current Exhibit beginning Oct. 29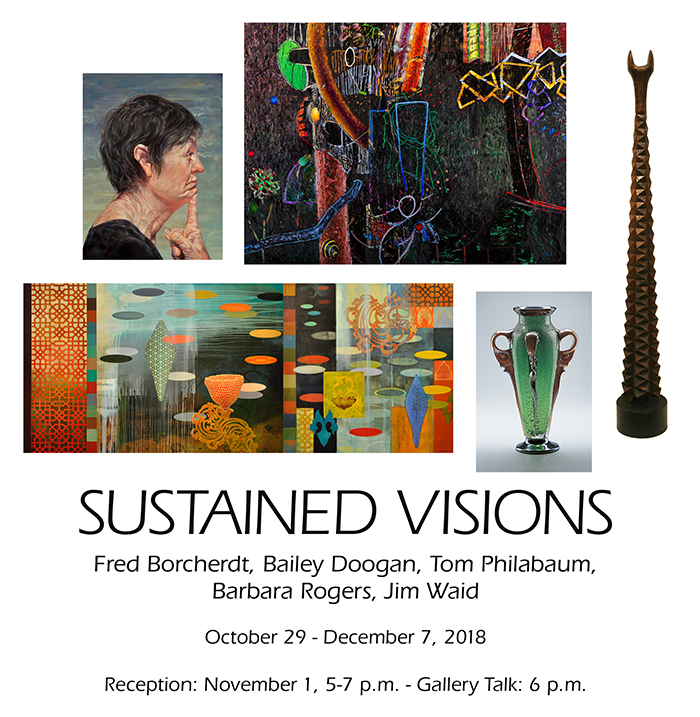 SUSTAINED VISIONS 
Oct. 29 - DEC. 7, 2018
Reception/Gallery Talk: NOV. 1 5-7 p.m.
Louis Carlos Bernal Gallery
The gallery and its programs are free and open to the public. Hours: Mon.-Thu. 10 a.m.-5 p.m., Fri. 10 a.m.-3 p.m., and before select performing arts performances. Closed for Veterans' Day 11/12 and Thanksgiving 11/22-23.
The Louis Carlos Bernal Gallery presents SUSTAINED VISIONS featuring five iconic Tucson artists: Fred Borcherdt, Bailey Doogan, Tom Philabaum, Barbara Rogers and Jim Waid. Reception and gallery talk is Nov. 1, 5-7 p.m. with entertainment by harpist Megha Morganfield and Two Docs and a Judge (Jacquie Wohl – fiddle, Elena Martin – flute, Judith Francis- piano) plays traditional music for listening and dancing. The repertoire includes lively Irish, French Canadian and American jigs and reels as well as waltzes and English Country Dance music. 
Bernal Gallery director David Andres explains the exhibit, "Tucson and Southern Arizona have many successful artists that have an independent vision, but few have sustained their conversion over decades. SUSTAINED VISIONS brings together five artists who kept their independence while sustaining a career of making art. All five taught on the university or college level while holding fast to their concepts and quality of craftsmanship. They all have had their work exhibited and placed in collections on the international level. The Bernal Gallery is honored to host Fred Borcherdt, Bailey Doogan, Tom Philabaum, Barbara Rogers and Jim Waid in an exhibit of their sustained visions."
Borcherdttaught at several locations before focusing on his sculpture full-time. He is a graduate of the University of Arizona and the Chicago Art Institute. He states, "The relationship of form to function as exemplified in old worn tools is a characteristic I use to impart a feeling of age as well as utility."
Doogantaught painting and drawing at the University of Arizona and is now professor emeritus. For the past 15 years her work has focused on the human body. She remarks, "Our bodies are full of stories. They are detailed maps of our experiences. This corporeal topography of hair patterns, veins, scars, calluses, wrinkles and flesh (both smooth and crenulated) speak of a life lived."  
Philabaumbuilt his first glassblowing studio in 1975 in downtown Tucson. He later founded the Sonoran Glass School where students can take classes through PCC to learn glass arts. Philabaum, who also has a MFA in ceramics, continues to create new techniques for his work with glass. His more current and site-specific art uses a broad array of techniques including kiln casting, fusing, slumping, and dale de verre.
Rogerstaught painting and drawing at the University of Arizona and is a professor emeritus. She makes paintings to transcend daily life and the ugliness broadcast in the news. Her goal is to evoke the sublime, to reaffirm the existence of beauty and the critical importance of cherishing the earth. She explains, "I paint because the act of painting is direct; it is another truth—you make a mark and there it is, just you and this act of creation."
Waidhas live and worked in Tucson for 40 years. He taught painting at Pima Community College in the 1970s and 1980s. Waid's work is in several public collections including the Metropolitan Museum of Art in New York City. In 2013 he was awarded the Arizona Governor's Arts Award.
Additional images by the artists are on display at the Extension Gallery, Tucson International Airport through Jan. 31, 2019.
Above images (clockwise): Bailey Doogan, Jim Waid, Fred Borcherdt, Tom Philabaum, Barbara Rogers